Art Specs and Color Guide
We accept electronic art (vector based line art, preferably .eps with text converted to curves or outlines to insure that your artwork is cross-platform). Artwork may be e-mailed to art@odysseyfl.com or submitted on CD or ZIP disc(s). There will be a 15 minute minimum art charge to digitize paper art.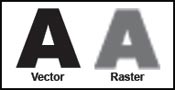 Vector vs. Raster Art"Raster images are made up of pixels, or square boxes. When resizing/editing these images, distortion causes blurriness and loss of detail. Since they must be high resolution for printing, the files are large and hard to send electronically. Vector images are plotted mathematically to create clean lines. When resized there is no distortion so they are higher quality, especially with multi-color images. Vectors are smaller and easier to send electronically.

Art ChargesIf touch-up, redrawing, or design is required, an art time charge of $47.50 (V) per hour will apply. Charges up to $16.00 (V) will be billed without prior approval. Please submit all multi-color jobs as a color composite. We must separate the art in-house to match our specs for trapping, gutters and color sequencing. Our Standard $47.50 (V) charge will be applied for color separating. If you cannot provide vector based art, we will accept TIFF initially created at 300 DPI. Bitmap art should be no less than 900 DPI.
HalftonesAll halftones submitted should be no less than 30% and no more than 70% in value (No halftones with Satin Etch, Metallic, and Iridescent inks). Halftones do not show up on plastic or stainless surfaces. Most shading will not produce a silk screen that will pass quality control standards, unless that shading is produced as a halftone at 42.5 lpi at 45 degrees elliptical dot. A minimum keyline stroke of .75 pt. is required on all halftones to constrain the dot pattern.
Instructions for layout, size, colors, typeface and location of imprint should be clearly specified with all orders.Your order must clearly state if artwork is 1 side, 2 sides or wraparound. Also, state if the art is to exact size or should be reduced or enlarged. If instructions are not clearly stated, we will use our best judgment. Imprints using glass and ceramic enamels must be 2 cm from the lip of the mug or glass due to FDA guidelines. Please take this into consideration if your art is to be vertically centered as we may be required to reduce its size. If specifications are not given for artwork sizing, no claim will be honored for incorrect sizing. Certain glassware products have a "seam" opposite the handle. Due to this "seam" we do not recommend a wraparound imprint. Artwork on items such as martini glasses and brandy snifters will be altered in appearance due to the taper, shape or radius of the item.
Submitted artwork will automatically be resized to max size unless otherwise noted. Requested typefaces will be matched as closely as possible, but exact match cannot be guaranteed. Minimal typesetting edits will be billed at $12.50 (V), but for large type files or extensive edits, the art charges above will apply. All art submitted is subject to review and possible additional art charges. Art charges of more than $16.00 (V) will not be billed without prior approval.
Screen Charges / Set-up ChargesScreen charges and set-up charges represent the cost of imaging, screen production and any and all minor touch-ups required for art. One-time screen charge is $47.50 (V) per color, per screen if reordered within 2 calendar years.
Multi-color Registration in Direct Screen PrintingDue to the nature of the production process and the variation of ware, shapes and sizes, a registration variance of 1/16" between imprint colors is considered acceptable in the industry.
Production TimeNormal production time is 10 working days from receipt of an order with credit approval and art approval by Odyssey. Additional time will be required for decal production, more complicated artwork preparation, color matching and high quantity orders. Please check with our customer service department for an accurate timeline.
Proofs and Preproduction / Sample ProofAll orders are sent a fax or email proof that must be signed off before going to production.
A preproduction proof is the same as a speculative sample. This is exactly how the imprint (size, placement, copy) will appear on your item. This is your last chance to make changes before your order goes to production. Pay attention to spelling, phone numbers, size and positioning of the layout. Proof approval form must be signed and received at our factory within 24 hours before production begins. Delay in approval may result in an adjusted ship date. An art approval signed by you is your financial responsibility when the order is complete. Changes to your proof not due to our error incur an $20.00 (V) art change charge.
SamplesA. Random Samples:Random samples are available at no extra charge on most items. However, UPS or Fedex account numbers should be provided to cover shipping. Samples will be shipped UPS Ground or FedEx within 48 hours.B. Speculative Samples:Speculative samples are available at $37.50 (V) per color. Additional colors add $26.75 (V) per color plus normal screen and art charges. If an order of 289 pieces or more requires no alterations to the original request, The art and screen charges remain the same. Sample charges will be credited toward the order with the exception of decal proof and pre-production samples. Any changes to the original instructions for speculative samples incur additional non-refundable art, screen and sampling charges. Ship dates will be adjusted based on the date of sample approval. Slight variance should be expected between sample and production due to batching, ink, processing, firing and other conditions.
Color Guide
Colors and Color MatchesA selection of standard colors is listed below by using PMS numbers for reference only. Colors are approximate when used on white glazed mugs. They appear differently when applied on glassware and various colored ceramic mugs. If a specific color match is desired, please include a PMS number or a color swatch. Color match charge, $67.50 (V). Color matches are sent via UPS and must be approved within 24 hours. Please add one week minimum to your delivery time. A color match sample must be approved prior to full production runs. Due to variations in ink and item lots, an exact color match cannot be guaranteed. Some colors cannot be matched exactly. Though all our inks are well within FDA standards, we offer a variety of options to help you stay in compliance with CA Proposition 65. Be sure to request Lead Free(LF) and Cadmium Free (CF) inks when shipping to CA.
Note: Lead Free colors lack the gloss and durability of standard base colors and if used for repeat orders the colors will vary slightly. Organic based colors, Lead free enamel, stainless steel and plastics are not dishwasher safe.

*contains Cadmium